The eGlide E-Scooter has quickly become the best-selling children's electric scooter in Europe. eGlide are a leading brand in electric scooters and the E-Scooter is certified to the highest European CE safety standards.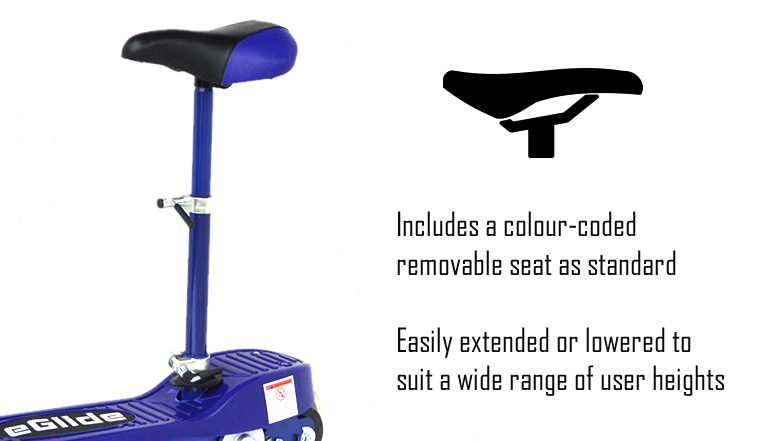 A removable seat is included as standard with all eGlide E-Scooters, meaning the user can choose to ride the scooter sat down, or remove the seat altogether for a stand-on riding experience. The seats are colour-coded to match the scooter.
Features:
- 120w Electric Motor
- Top Speed of 12Km/h
- A market-leading range of 15-20KM between each full battery charge
- Colour-coded components including kick-plate and handle bar pole
- Handlebar and seat height are fully adjustable to suit a wide range of user sizes
- Fold-Down design for easy storage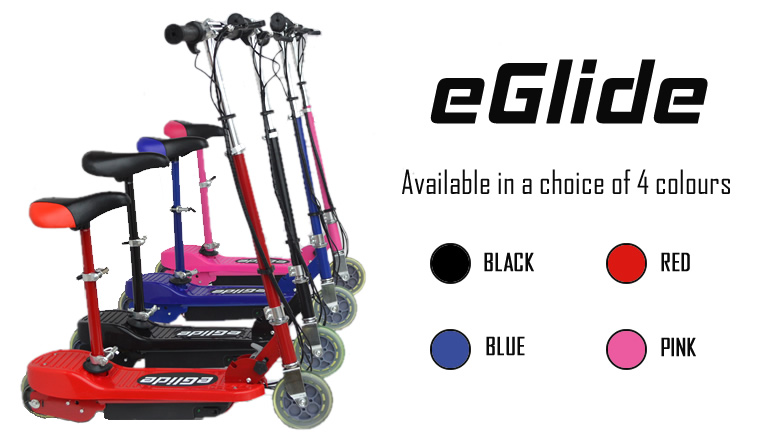 An excellent present for boys and girls alike, the eGlide E-Scooter is available in a choice of 4 colours: Black, Red, Blue or Pink.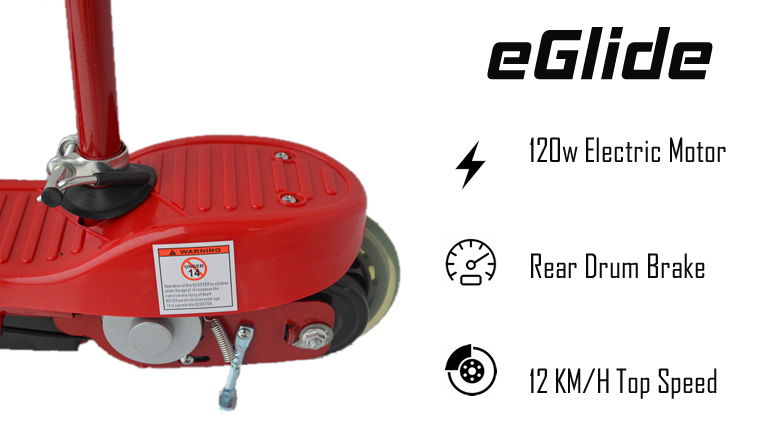 Detailed Specification:
- 6" PE Tyres
- Height Adjustable Handlebars
- Height Adjustable removable seat
- Hi-Tensile Steel Frame Construction
- 3-5 hour maximum charge time
- Rear drum brake operated by lever on handlebar
- Spring-Mounted Kick Stand
- 2 x 4.5AH 24v Batteries (included)
- Maximum user weight: 70KG
- Maximum Speed: 12Km/h
- Recommended Age: 14+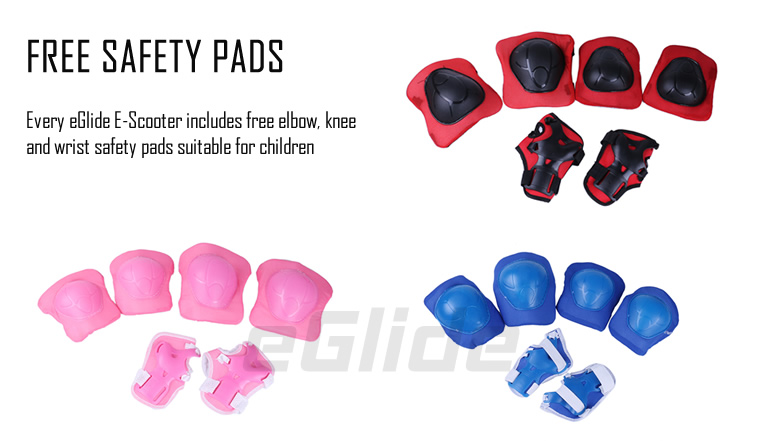 The eGlide E-Scooter includes a free full set of safety pads worth £14.99. The set includes wrist supports, elbow pads and knee pads. Available in colours to match the scooters, the corresponding colour of safety pads will be sent along with your choice of E-Scooter colour. Available with UK, EU or USA charger - charger supplied will depend on shipping location when ordering. We are an official eGlide stockist meaning we are able to offer a comprehensive warranty, servicing and can supply spare parts/accessories.