The VR Box 2.0 is the very latest in virtual reality gaming and media playback
We are the UK's original and leading VR-Box supplier offering only genuine stock. All of our VR Box products include the Bluetooth gaming remote.
The unique design of the product allows you to easily insert your compatible mobile phone into the sliding drawer to create a fully immersive viewing experience. The simulated equivalent screen size would be 1000 inches viewed at a distance of only 3 metres meaning you really feel part of the movie or game.
The original VR Box 2.0 is the latest 2nd generation product offering high precision resin lenses for a clearer image and adjustable pupil distance to suit a wider range of users.
The integrated Optical Axis Sliding Control function adjusts the position of the spherical resin lenses, controlled by moving the sliding button on top of the glasses.
The VR Box 2.0 has a universal ergonomic design with cushioned face mask to suit any face shape. A fully adjustable headband means the product is also suitable for any head size.
The VR Box 2.0 allows for data/charging cables to be connected to the phone whilst in use via convenient side slots located on the glasses.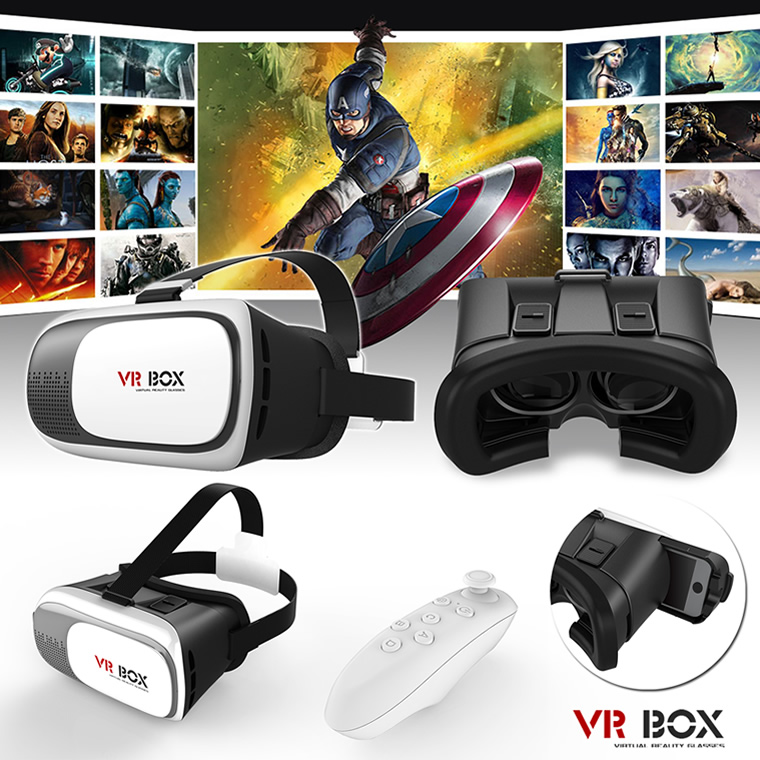 Compatibility:

The VR Box 2.0 is designed to work with phones with a screen size of 4.3" to 5.8". This includes but is not limited to the following phone models:

iPhone 4 / 4s / 5 / 5s / 6 / 6 Plus / 6s / 6s Plus
Samsung Galaxy S4 / S5 / S6
Google Nexus 4 / 5 / 6
HTC One

Specification:

• Model: VR Box 2.0 - 2nd Generation VR Box
• Product Material: ABS+PC
• Headband material: High-density nylon elastic headband
• Lens: HD Optical Resin Lens
• Lens Diameter: 42mm.
• FOV: 70°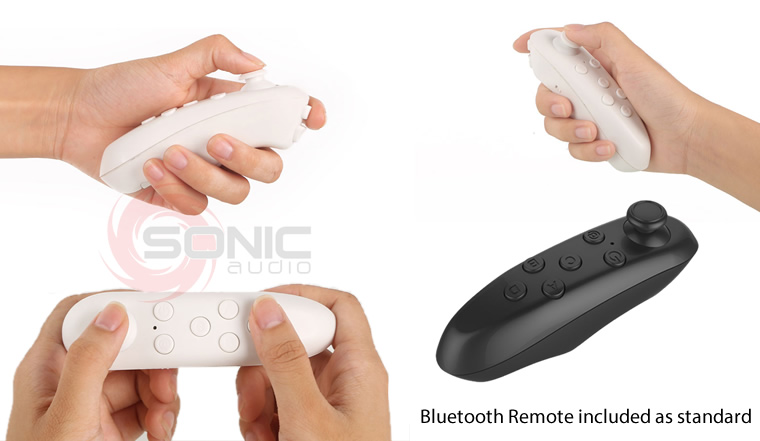 Bluetooth Gamepad Features:

Our genuine VR Box 2.0 products include a Bluetooth gaming remote control as standard. The Bluetooth remote can be used as a games controller, wireless mouse or a remote controller for Bluetooth 3.0 or above enabled devices. The controller can also act as a remote shutter for taking hands free photos.

Compatible with Android, PC and iOS. Operating range up to 10m.

Includes three modes:

Mode 1: Android mouse/shutter/game control, press both START and MODE 1 button to power on.
Mode 2: Android music/shutter/game control, press both START and MODE 2 button to power on.
Mode 3: iOS shutter/game control, press both START and MODE 3 button to power on.
Package Contents:

• 1 x VR Box 2.0 3D Virtual Reality Glasses
• 1 x Wireless Bluetooth V3.0 Gamepad/Remote
• 1 x English User Manual for 3D Glasses
• 1 x English User Manual for Bluetooth Gamepad
• 1 x Cleaning Cloth
• 1 x Foam Sticker