The Dynavin VC-PSCY is a bespoke reversing camera designed specifically for use with the Porsche Cayenne (MK1, 2003-2010). Its unique design means that no holes need to be drilled when mounting; the VC-PSCY will simply replace your existing rear license plate light, integrating seamlessly with the lights original mounting screws and wiring and maintaining illumination with an integrated LED. The VC-PSCY is designed to replicate the size and shape of the existing license plate light but with the addition of a discrete inbuilt camera.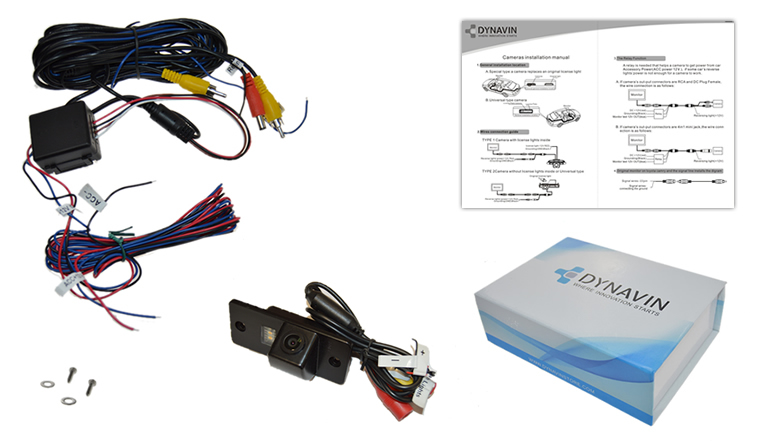 Dynavin are a leading brand producing some of best quality bespoke cameras on the market.
Once correctly installed, the VC-PSCY will automatically power on as soon as the vehicle is put into reverse delivering a PAL video signal via the included 6 metre RCA video cable signal to any monitor with an RCA reverse camera input. All Dynavin head units have an RCA reverse camera input and are fully compatible with the VC-PSCY.
The Dynavin VC-PSCY Reversing Camera has integrated guidelines displayed on screen giving a coloured indication of distance, which aids the driver in distance perception when reversing.
The VC-PSCY camera is also compatible with any aftermarket car head unit with a suitable video input. If your aftermarket head unit has a dedicated camera input then the VC-PSCY can be set up so that the rear-view image can be automatically displayed as soon as the car is put into reverse.
The VC-PSCY is not designed for use with original factory-fitted monitors or OEM displays, as vehicle manufacturers do not design their equipment with the required RCA video inputs used by aftermarket cameras.


WILL THIS WORK IN MY PORSCHE?
The Dynavin VC-PSCY Reversing Camera is a no-holes/drill-required bespoke solution compatible with the following Porsche vehicles:
Porsche Cayenne (MK1, 2003-2010)

This camera will be compatible with any variant of the above vehicles (engine size or vehicle spec does not matter).
Vehicle compatibility list is for guide purposes only, please check the dimensions or part number of your original Porsche license plate light and compare with the information/pictures in this listing before purchase to confirm compatibility.
The picture below shows the original Porsche rear number plate lamp this camera is designed to replace. The VC-PSCY is designed to replace the OEM lamp and has its own LED lamp built in. The original part number the VC-PSCY is designed to replace is "955.631.620.04" and can be seen on the front of the original license plate lamp cover as seen in the below picture. If you have the below number plate lights on your car, this product will fit your car.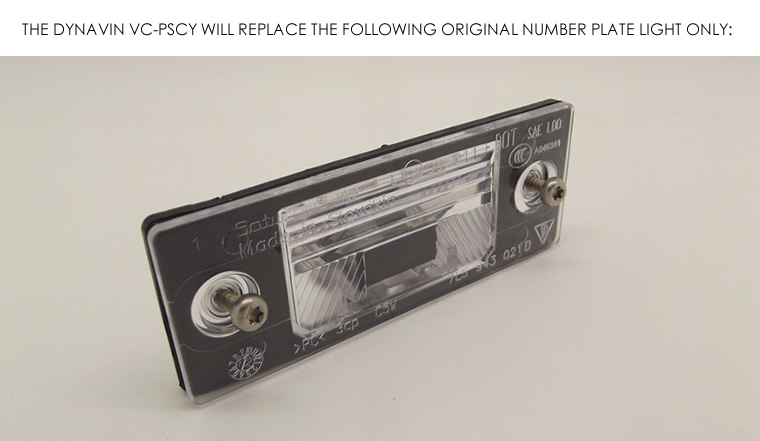 Technical Specification - Optimized for Dynavin

Images Sensors

OV7959 OmniPixel3-HS™

Power Supply

DC12V

Effective Pixels

580×540/580×492

Min Lux

1Lux

Resolution

(TV Line) 42

TV system

PAL/NTSC

Lens Angle (Deg.)

170 Wide Angle

IP rating

68

White Balance

Auto