The Sonic Audio HR-7A DVD/Multimedia headrests are the latest in premium in-car entertainment.
THIS LISTING IS FOR 2 x BLACK HEADRESTS - PLEASE CHECK OUR STORE FOR GREY/BEIGE HEADRESTS
The Sonic Audio HR-7A DVD Headrests are available in the 3 most popular colours of car interior, Black, Grey and Beige with a leather-style finish. Manufactured to an exceptionally high standard, the Sonic Audio HR-7A headrests include a full 12 month warranty from Auto-Electronics.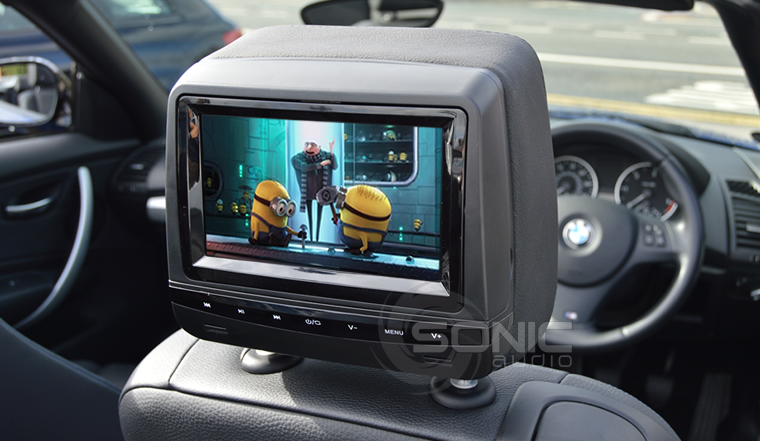 The HR-7A DVD Headrests feature a new and exclusive premium design which is tailored to match the interiors of modern, high end vehicles. The stylish piano-black touch-key buttons provide maximum functionality with a minimalistic design, exquisitely finished by Sonic Audio. A major new feature not previously found on other headrest models is the ability to adjust the viewing angle thanks to a rotatable screen mount, allowing the position to tilt up to 30 degrees which is ideal for the younger/smaller users.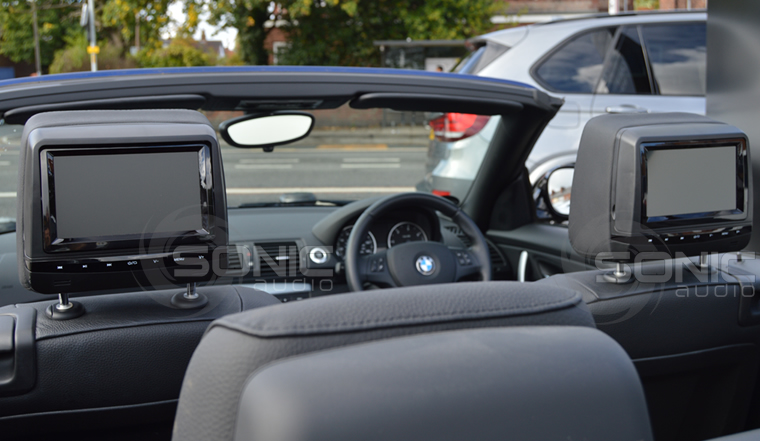 The Sonic Audio HR-7A DVD/SD/USB Headrests feature a High Definition (HD) 800x480 Digital Screen. Each headrest has a built in DVD player manufactured by Sony, giving market leading performance and reliability. The DVD players are Multi-Region and will play a wide range of different media files from any DVD/CD (full specification below).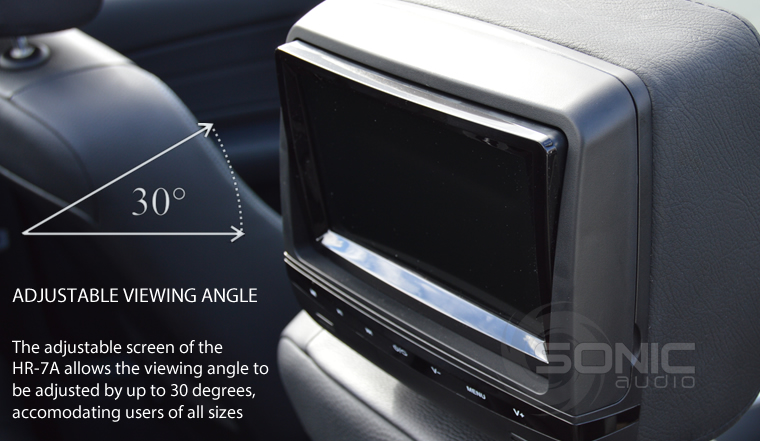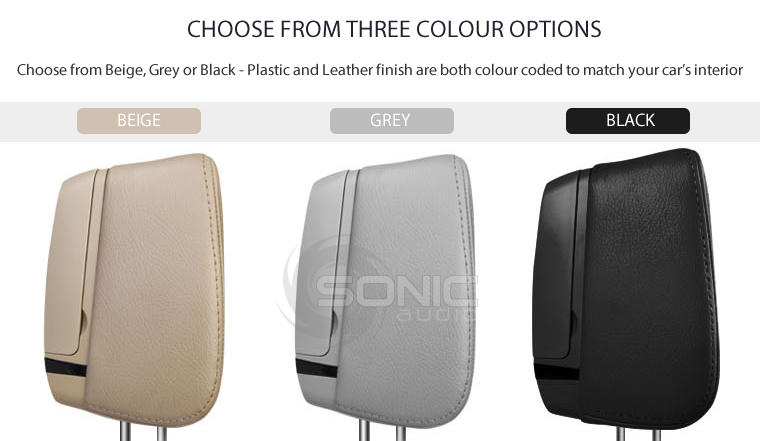 Unlike other headrests on the market, the Sonic Audio HR-7 DVD headrests have no printed branding, giving a neutral factory-fitted OEM appearance when installed.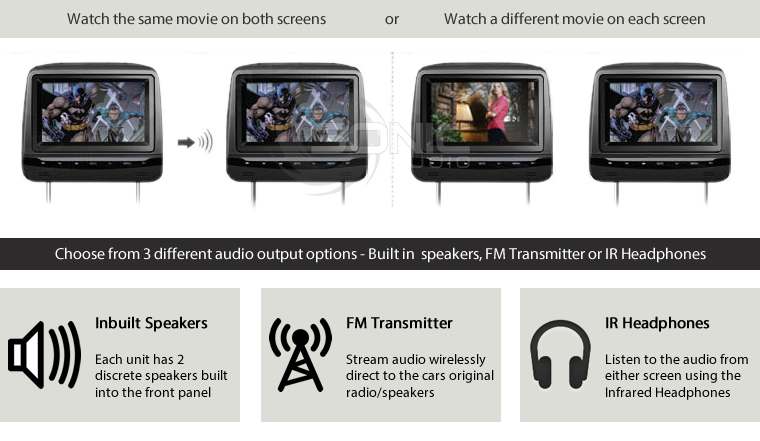 USE EACH HEADREST INDEPENDENTLY OR LINK TOGETHER FOR MULTI-SCREEN VIEWING
The Sonic Audio HR-7A headrests can be used completely independently of each other, so each screen can play back a different DVD; perfect for when the kids can't agree on what to watch.
The HR-7A headrests from Auto-Electronics include 2 pairs of Dual-Channel Infrared Headphones so the user can choose to listen to audio from each headrest independently. Additional audio output choices include high-quality built in speakers (2 per headrest), or a built in FM-transmitter which can stream the audio directly to the cars original radio and speaker system.
Each headrest has a built in AV input/output, which allows for the headrests to be connected together or to other screens in the car. This allows for the same disc to be viewed on both screens if required, or for additional media inputs/outputs to be connected for sharing the media with other in-car multimedia devices.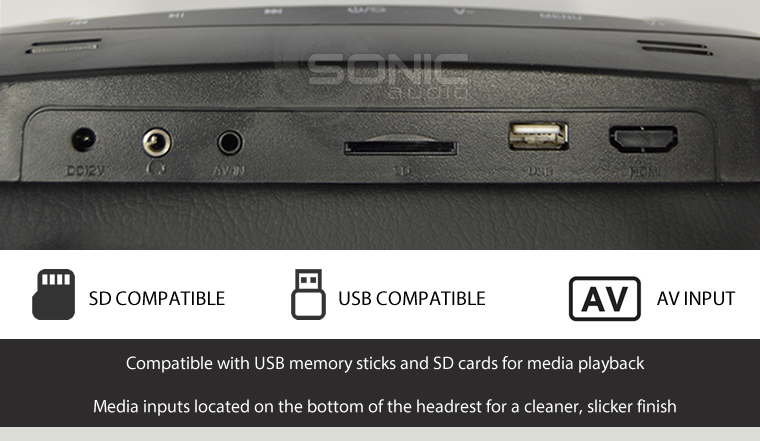 Each Sonic Audio HR-7A headrest has its own dedicated USB/SD input discretely located on the underneath of the headrest, so you play back all of your favourite Audio/Video files that are not on a CD/DVD using either a USB memory stick or SD card.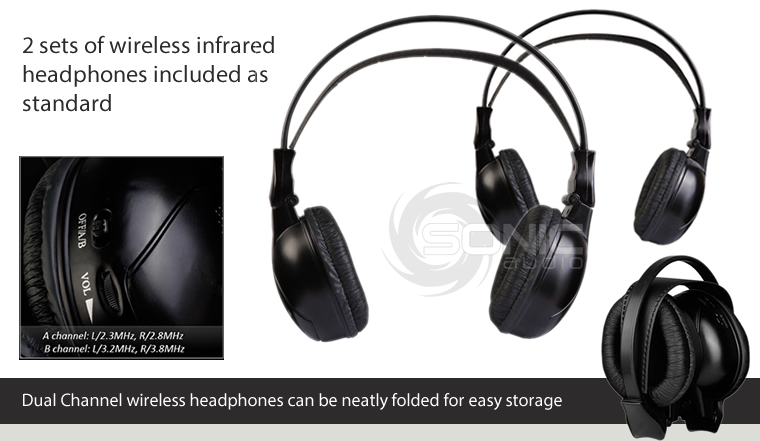 2 FREE SETS OF MULTI-CHANNEL INFRARED HEADPHONES – WORTH OVER £40!
The Sonic Audio HR-7A Headrests from Auto-Electronics include 2 free sets of Dual Channel Infrared Headphones (requires 2x AAA batteries per set, not included), allowing each user to choose which headrest to listen to wirelessly. Each headrest also has an inbuilt FM transmitter which gives the ability to wirelessly stream the audio from either headrest via FM, meaning the sound can be listened to through the cars original radio if required, eliminating the need to use the headphones.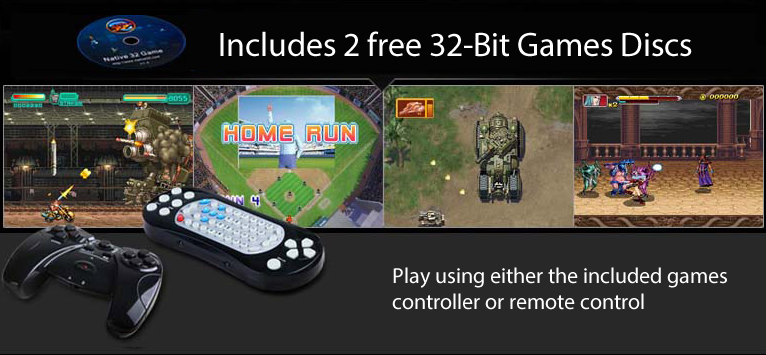 Includes 2 x Games Discs and 2 x Games Controllers
The Sonic Audio HR-7A Multimedia Headrests include 2 x 32bit games discs, which contain dozens of Arcade-style games which will keep the kids entertained for hours. There is one games-console-style remote included, and one traditional-style remote which doubles up as a games controller if required. Additional games can be downloaded free of charge online.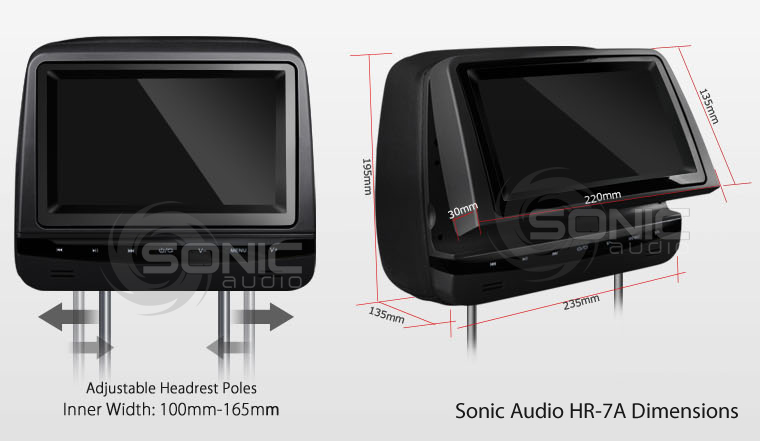 INSTALLATION
The HR-7A headrests are a universal product designed to fit into virtually any vehicle thanks to the fully adjustable pole widths and range of diameter adapters which are included as standard. An incredibly simple 2-wire installation (12v and 0v) means these headrests can be hardwired with a professional factory-fitted style appearance in no time at all. If required, optional cigar lighter plugs are available to purchase separately.