Auto-Electronics are an Official Distributor of ViseeO products as appointed by the manufacturer of ViseeO products. This enables us to offer all our items with the latest software installed, offer unrivaled technical support with a direct contact to the manufacturer, a full 12 month warranty which we always honour and stock enabling us to offer the quickest delivery times in the UK.

Authorised ViseeO Distributor

We are an authorised ViseeO distributor meaning we offer unrivalled technical support and genuine UK stock. We are the number one ViseeO Distributor in the UK and run the website www.viseeostore.com so you can be assured of our dedication and experience with ViseeO products.

Our authorised ViseeO Distributor position can be confirmed with the manufacturer and is recognised by the unique logo on the left.

Our staff are available to assist either by telephone or email with any questions you may have. Unlike other sellers, we are also able to offer a 12 Month Manufacturers Warranty, meaning that if your ViseeO unit develops a fault at any point during your first year of purchase you will be covered.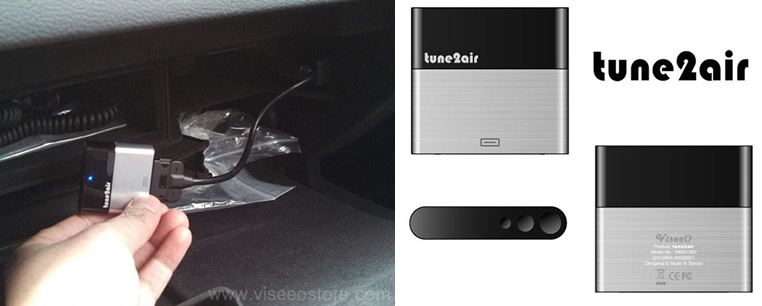 The new ViseeO Tune2Air is the latest innovative plug-and-play product from ViseeO.
It is a plug-and-play adapter designed for original Audi/BMW/Mercedes/VW factory fitted iPod kits. Instead of manually plugging the iPod into the connector every time you enter the car, you instead connect the Tune2Air to the original iPod 30-pin connector. The Tune2Air is then left in the car permanently connected to the original iPod cable.
Once the Tune2Air is connected to the iPod cable and paired with your iPhone/iPod, every time you re-enter the vehicle the Bluetooth connection will be established automatically, meaning that your full music library will be instantly accessible on your in-car iPod interface, without having to remove the phone from your bag/pocket and manually plugging into the cable. This allows for a much more enjoyable in-car music experience as you can simply get in and drive, without the risk of leaving the iPhone/iPod in the car after the journey.

Wirelessly connect your iPhone/iPod/iPad with your cars existing iPod solution!

The Tune2Air offers a complete level of integration designed to replicate the results of physically connecting your iPhone/iPod to the existing 30-Pin dock connector in the car. If your current iPod/iPhone setup shows track, album, playlist and album artwork info on the cars original screen then all this information can still be viewed on screen using the Tune2Air. The Tune2Air retains all of the cars original controls, so you can continue to use the dashboard and steering wheel controls present in your car to operate the iPhone/iPod in the same way as if it was physically connected.
With the release of the iPhone 5/6 and the new Apple 'Lightning' connector, many thousands of car owners have found then cannot connect their new iPhone/iPod to their expensive factory-fitted iPod integration option. Many of the Lightning adapters available do not support audio and you find you are unable to use the iPod kit in your car. The inexpensive Tune2Air is the perfect solution to this; the connection between iPod/iPhone and the car is completely wireless utilising the latest Bluetooth technology, so it does not matter what type of connector your Bluetooth enabled iPhone/iPod has.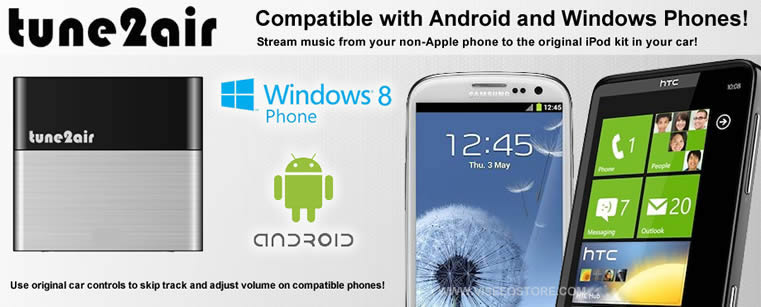 The Bluetooth enabled Tune2Air is not only compatible with Apple devices, but also any brand of Android or Windows mobile phone. You will be able to stream music wirelessly to the iPod system in your car which was originally only designed for Apple products. Controls such as volume and skip track will also be retained on the original car buttons, so you can use the original head unit or steering wheel controls to skip tracks where compatible. As the Tune2Air is used with original in-car iPod kits, it is not possible to stream playlist or album art info from non-Apple phones, but you can still enjoy the same high quality audio from your Android/Windows phone through your original iPod system.

Display full iPod music on the original car screen and control from the multi-function steering wheel using the ViseeO Tune2Air!
Main Features:
Plug and Play – no installation required! Simply plug into your cars existing iPod Cable
Connects iPhone/iPod and cars original iPod interface wirelessly using Bluetooth technology – no need to manually plug iPod in every time
Automatic reconnection every time you enter the vehicle
Compatible with BMW/Lexus/Ford/Infiniti and any other brand of vehicles original factory fit iPod solution which connects via USB cable, also compatible with aftermarket solutions such as Dension, MoBridge and others
Display your entire iPod music library on your original car screen from your iPhone, iPad or iPod Touch
Browse, skip and control music playback using original steering wheel and head unit controls
You can still use the original or aftermarket Bluetooth phone hands free in your car whilst being connected to Tune2Air for music playback at the same time

What do I need to use the ViseeO Tune2Air WMA1000 in my car?

The ViseeO WMA1000 Tune2Air is compatible with any in-car or home iPod solution with a 30-Pin iPod dock connector as shown in the photo on the left. It will work with any brand of aftermarket or original factory-fitted iPod kit. The 30-Pin iPod connector is the style which was used before the iPhone 5 Lightning.

The Tune2Air is compatible with iPhone 4, iPhone 4S, iPhone 5, iPhone 6 and 6 Plus, iPad 1st Generation, iPad 2nd Generation, iPad 3rd Generation, iPod Touch 4th Generation and iPod Touch 5th Generation. It is also compatible with Windows/Android based Bluetooth enabled phones.

ViseeO Tune2Air WMA1000 Hardware Specification:

WMA1000 Wireless Bluetooth Music Adaptor for Original In-Car iPod Integration

Powered by high quality CSR BlueCore5 Bluetooth module

Supports Apple's iAP over Bluetooth technology

Bluetooth V2.0+EDR compliant, Bluetooth V2.1 ready

Superior audio quality with Dual ADC and DAC for stereo audio

Compatible with Audi, Mercedes and VW or any other cars with the original or aftermarket 30-Pin iPod connector

Tune2Air is compatible with iPhone 4, iPhone 4S, iPhone 5, iPhone 6 and 6 Plus, iPad 1st Generation, iPad 2nd Generation, iPad 3rd Generation, iPod Touch 4th Generation and iPod Touch 5th Generation. It is also compatible with Windows/Android based Bluetooth enabled phones.


.



Tune2Air WMA1000 Bluetooth Adapter
User Manual